Welcome to the Delver Wiki
This wiki has information on the indie game Delver, a rogue-like dungeon crawler. Ranging from modding tutorials to the many different items and monsters, this wiki has all the info you will need to survive the onslaught the dungeon brings!
Since the wiki started on July 1st 2012, we have had 3,880 edits on 125 articles. Why not join in and help around the wiki by editing?
About Us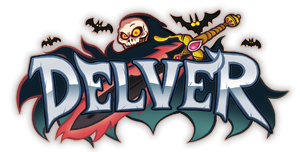 The Delver Wiki is a collaborative community project on the indie game Delver. Contributions are appreciated as we have a very small active task force keeping this wiki up to-date.  Please make an account and log in to experience this wiki fully.  Should you have any problems please head over to the forums or leave a message on one of the admin's talk pages.
About Delver
Delver is a first person action roguelike in development for Windows, Mac, Linux, and Android devices. The game features retro style graphics and gameplay, with the ability to mod almost anything. Delve deep into the depths of a randomly generated dungeon with one goal in mind, get that ancient Yithidian Orb . Of course, this won't be easy, there will be plenty of monsters in the way. Adventure through the dangerous dungeon, picking up loot along the way preparing for the battle against the dreaded lich . Will your adventure be a success, stories told about it for generations? Or will you be mocked and forgotten because of your failure? Your fate... awaits...

First released as an in-development alpha on March 01, 2012, the game is being developed by Chad Cuddigan. You can buy the game on PC to support future production for only $7.99 at www.delvergame.com, you will also receive all future updates for free. The PC version is also available on Steam Early Access for purchase at $7.99 here. Delver is on the android, available for purchase through Google Play.
Modding and Development
All content in the game can be modded freely with or without the use of specialized tools. Custom dungeons can be made using DelvEdit.
For modding information it is strongly recommended to visit the Delver Modding Handbook wiki, as the current info here is extremely out of date!
DelvEdit
Development
A forum thread on TIGSource serves as a DevLog and is being frequently updated by the developer himself.